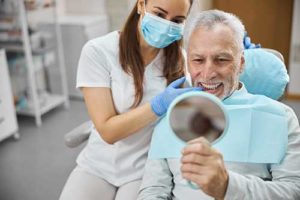 Have you been told you need orthodontics treatments or that your son or daughter may benefit from them? Many people can benefit from orthodontic services to help straighten and align their teeth. If you are unsure if this is right for you, we recommend coming in for a consultation with our orthodontist. Splendid Dental Woodlands wants to help improve your smile through our specialty dental services.
Who Should Have Orthodontics?
Orthodontic services are designed to improve the alignment of your teeth. There are many ways that this can be done. The goal is to improve your teeth' alignment to ensure you can smile with confidence. Yet, there are other benefits to orthodontics as well. For example, it can:
Reduce the risk of early tooth decay
Improve speaking clarity
Improve biting and chewing
Give you a smile you love
Our orthodontics are designed to provide you with exceptional care and results. We use the most updated methods and techniques to give you a smile you can love. We may recommend these services if you have misaligned teeth, such as crowded together, or your upper and bottom jaw do not align. You may also have problems with gaps. Any situation where the teeth are not straight may benefit from seeking out orthodontics services in North Houston.
What Type of Orthodontic Services Are Best for You?
The big question we have to ask is what type of treatment will restore your smile to the best possible condition. This depends on many factors, including the type of problems you have and the severity of them. When you meet with your orthodontist in Texas in our office, you will have to learn more about all of your options and the steps you can take to improve your smile.
After a consultation, x-ray, and dental exam, we will make recommendations for you in orthodontic services and applications. These may include the use of braces. Traditional metal braces and ceramic braces are two of the most common options. These are affordable, very effective, and, in ceramics, can be made clear, so others do not see them as easily.
We also offer more innovative orthodontics, including clear tray aligners. This type of product works to improve your smile using a plastic tray inserted into your mouth. It is custom-designed for your smile. Once in place, it gently works to move your teeth into the proper position. This method tends to be beneficial because it is more effective and works faster than others.
Braces for Adults
At Splendid Dental Atascocita, our orthodontists will customize your braces to ensure they fit properly. They will evaluate your progress every few months and tighten the braces as needed. How long you will need to wear dental braces depends on the severity of your dental issues; however, it typically ranges from around six months to around thirty months. It is important to begin orthodontic treatment as soon as you begin to notice the signs and symptoms of an alignment issue. Not only is orthodontic treatment more effective when you quickly address the problem, but the early treatment also decreases the length of time you will need dental braces. Lingual braces are another option for straightening your teeth. This is a good choice for some adults because the brackets are placed on the inside of the teeth rather than the outside.
An Orthodontist Can Upgrade Your Smile
Dental braces include metal braces, ceramic braces, and clear aligner trays. Ceramic braces are similar to metal braces but more closely match the color of your natural teeth, making them less visible than traditional metal braces. Clear aligners are transparent and removable. Whatever your situation, the orthodontists at Splendid Dentistry Woodlands can help!
We Specialize In Improving Your Smile
When you choose Splendid Dental Woodlands for your orthodontics, you know you are working with a board-certified orthodontist with ample experience and exceptional insight. Our team is dedicated to your best outcome.
We provide all of the services you need to improve your smile. This may include orthodontic services such as those mentioned. We also want to extend your care to include other needs you have, such as:
You do not have to wait to schedule a consultation with our orthodontist. Just don't stop with orthodontic services. Ensure you are getting the smile you want to ensure your teeth last for years to come in the best possible condition. You want that perfect smile, and we have the tools to help make it happen.
Choose to Improve Your Smile with Splendid Dental Woodlands
Orthodontics services in Houston, Texas, can help to give you a smile you're proud of having. Our team at Splendid Dental Woodlands can provide the orthodontic services you need in no time. Reach out to schedule a consultation with our experienced orthodontist today. Call 713-587-9996 for an appointment time that fits your schedule.