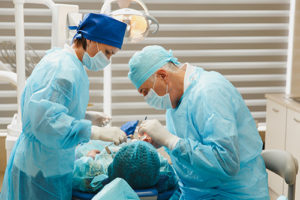 Dental problems are one of the most common health issues in the United States, with 68% of American adults ages 18 to 34 experiencing some pain related to their mouth or teeth annually. Additionally, 15% of all working adults have missed at least one day of work in the past year because of dental problems. Even small things like tooth decay can snowball into infections and gum disease. Specialty dental services can help address complex and serious dental problems and preserve your oral hygiene. Learn about orthodontic services in Houston along with additional dental services by contacting Splendid Dental Woodlands today.
Do I Need Specialty Dental Services?
Most dental problems, even those that require surgical intervention, are the result of neglected or untreated tooth decay. Besides brushing and flossing daily, regular dental exams are the best way to prevent cavities. Tooth decay creates cavities in your tooth, which can spread to your tooth pulp and gums when left untreated, which requires help from dental specialist services.
Tooth decay can cause:
Infections in your tooth pulp

Dental abscesses

Pain, swelling, and discomfort

Gum disease and loose teeth

Tartar
Tooth decay can lead to plaque developing on the exterior of your teeth. While plaque can be removed by brushing, it can harden into tartar, which requires dental specialist services from Splendid Dental Woodlands to treat.
Bacteria in your mouth can end up trapped between your teeth and gums. When this happens, professional dental cleanings are necessary in order to prevent infections and gum disease. If plaque, tartar, and bacteria are allowed to fester in your mouth, it can create pits and gaps between your teeth and gums. This can cause your teeth to become loose. Specialty dental services typically see complex problems develop after years of dental neglect, such as failing to see the dentist annually or practicing poor oral hygiene.
Specialty Dental Services at Splendid Dental Woodlands
Specialty dental services from Splendid Dental Woodlands can help treat even the most complex dental issues. Some of the most common specialty dental conditions we see at Splendid Dental Woodlands include missing teeth, infections, and misalignment. Missing teeth usually occur because you had an infected or damaged tooth extracted.
The best way to prevent the need for a tooth extraction is to see your dentist when you first notice symptoms of pain or discomfort. If the pain eventually goes away on its own, this is cause for concern. Dental pain is always an indication of an underlying issue. Infections can not only cause severe pain but, when left untreated, can spread to your gums or other parts of your body. Specialty dental services can ensure your infection is quickly eradicated and schedule you for root canal treatment.
We Perform Root Canals at Splendid Dental Woodlands
Root canal treatment is performed by an endodontist, which is a specialty dentist. During a root canal procedure, your specialty dentist will remove any existing tooth decay, clean your tooth pulp and place a temporary crown on top of the tooth. Several weeks after the procedure, your specialty dentist will place a permanent crown, which is made specifically for your tooth, on top of the previously infected tooth. Contact us to learn more about the following services:
Specialty dental services from Splendid Dental Woodlands can also treat cracked, chipped, and fractured teeth, as well as provide dental implants and orthodontics such as dental braces.
Learn More at Splendid Dental Woodlands
When you are struggling with a complex dental issue, or are in pain because of untreated tooth decay, finding the best specialty dentist is the first step in returning to optimal dental health. If you would like to learn more about specialty dental services, contact Splendid Dental Woodlands today at 713-587-9996.