At Splendid Woodlands Dental Care, our dentists specialize in restoring smiles. We can provide you with a wide variety of restorative dentistry services that can help you address your acute concerns. In addition to restorative dentistry, we offer an array of dental services for you and your entire family. Splendid Dental Care offers exceptional dental care in the Woodlands and Spring, TX. Contact us today to learn more by calling 713-587-9996.
An Overview of Restorative Dentistry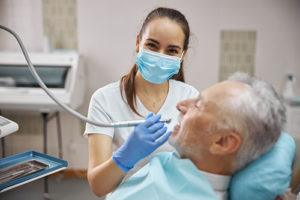 At Splendid Dental, we encourage all of our families to visit us at least twice per year for regular cleanings. The first step in restorative dentistry is preventing other problems from occurring. This includes filling cavities, dental bridges, dental crowns, and root canals. In some situations, we may even recommend dental implants. If you have pain when you chew or have lost or broken teeth, dental restoration may be an excellent option. We will work with you every step of the way to make sure that you understand what all of your options are.
Our Woodlands dentists work to make sure that we restore the appearance, health, and function of your mouth. We will start with the enamel on the surfaces of your teeth. In some situations, we may also need to turn to their roots, your jaw, and gum tissue. We are going to clearly explain to you the benefits and drawbacks of all of your options when it comes to restorative dentistry services. That way, you will be able to make an educated decision that is in the best interests of your health.
When Dental Restoration Is Required
There are a number of reasons why we may need to leverage our restorative dentistry services in The Woodlands. A few examples of situations where people benefit from dental restoration include:
If there is a defect on the surface of your tooth, we may be able to address this with resurfacing procedures

If you have suffered a slip and fall accident, it is possible that you may have chipped one or more of your teeth

If you have multiple cavities in your teeth, then they need to be filled, which is where we can help you

If some of your teeth have suffered severe damage, we may need to cover them with dental crowns

If there is a gap in your smile, then we may provide you with a dental bridge to correct this issue
At Splendid Dental Care in The Woodlands, we provide many dental services, including:
How Common Are Dental Restoration Services?
Dental restoration services are incredibly common. We have worked hard to expand the array of services that we provide to make sure that we can handle all of your needs. According to statistics that have been released by The Centers for Disease Control and Prevention (CDC), close to one-third of adults have cavities that have not been adequately treated. This is one of the most common situations where we use our dental restoration services. We want to make sure that we provide you with strong, functional teeth.
Call Splendid Woodlands Dental Care Today for Help with Restorative Dentistry Services!
If you are looking for help with restorative dentistry in the Woodlands, then the team from Splendid Woodlands Dental Care is here to help you. We provide a wide variety of services that we can tailor to meet your unique needs. Please give us a call today at 713-587-9996 to make an appointment with one of our dentists. We are located in the Springwoods Village shopping center in Spring, TX.