Especially for people who have had a bad experience before, it may seem impossible to find a dental practice where your entire family can be both comfortable and well cared for. Children especially may feel anxious at the dentist's office, so it is important to start good habits as soon as possible. At Splendid Dental Woodlands, we offer a comfortable and accommodating environment where all family members can feel at ease and confident in their oral care.
Pediatric Care at a Family Dentist
Children have unique needs, and pediatric dentists get extra training and education after dental school to help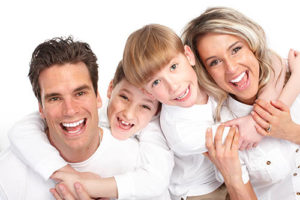 children of all ages. Children's needs may also change quickly as they grow, and a family dental practice can help keep track of growth and development in those changing years.
A pediatric dentist will help care for your children's teeth from the arrival of their first baby teeth until they become adults, watching out for any issues such as decay and improper growth. At that time, they can continue to be seen at the family practice with the rest of the family. They can stay in a place where they are already comfortable, and the practice will be familiar with their issues. Good habits start early, and a good experience as a child is more likely to make someone continue to see a dentist as an adult.
Why People Choose Family Dentistry
While most dental practices offer general services, family dentists treat dental issues in children and adults. You can schedule teeth cleaning, fluoride treatments, and fillings, but a family dental practice will offer much more. For example, Splendid Dental Woodlands also assists with nightguards for individuals who have been grinding their teeth at night and dentures for those who have lost teeth permanently.
Advantages of family dentistry:
It is far easier and more convenient to schedule everyone's dental appointments in the same place, making it more likely that everyone in the family will be up-to-date.
The dental practice can create a care plan for all of your family's treatment, making it easy to keep track of overall dental health and to identify genetic problems early, so you can prevent them from becoming worse.
Family dentists get experience with many kinds of dental problems, meaning that you can probably handle most issues without a referral to another specialist. Whether you need a dental implant, periodontal care, or cosmetic dentistry, your family dental practice can take care of you.
Perhaps most importantly, you set a good example for your children when seeing that you are regularly seeing a dentist for a cleaning and other dental care. This will help alleviate their fears, but it will help them remember to have good habits throughout their lives.
Be proactive. The best strategy when dealing with problems with your family's teeth and gums is to be proactive. Get regular checkups and see the same dentist as much as possible so that if there is any problem, it can be identified early. If you find a problem early enough, you may be able to avoid it altogether. You will save yourself not just the pain and possibly permanent injury but also the money from more complicated procedures.
Pediatric Dentistry in the Woodlands
As a family dentist, we specialize in treating children's dental needs. When children have good early experiences at the dentist, they are more likely to take good care of their teeth throughout their lives. Kids should feel at ease visiting their dentist. At Splendid Woodlands, our dentists offer sedation dentistry when needed. Addressing dental issues early on is the best way to approach your family's dental care.
Benefits of Fluoride Treatments
Young children and teenagers experience significant benefits from having fluoride treatments. During treatment, a fluoride solution is applied to the teeth. This process prevents acids and sugars from eating away at the teeth. Avoiding cavities and periodontal disease starts in childhood. Our dentists can help.
Emergency Dentistry
When problems with your teeth or jaw take you by surprise, count on us to be there for your family. We will do our best to reduce your pain and fix the problem quickly, even if it's after hours or on weekends. Needing an emergency dentist can be scary for children, so it's easier for kids to visit an emergency dentist they already know.
Our multidisciplinary care approach offers a range of emergency dental specialists at our Woodlands location. We can take care of all of your dental needs right in our office. We are excited for Splendid Woodlands to become your family's "one-stop-shop" for dental care.
Book an Appointment at Splendid Dental Woodlands Today
Your family deserves to have good dental care. Splendid Dental Woodlands is accepting new patients, and we can schedule you in and set you up with a long-term plan for your whole family. We also offer hours outside of regular hours and emergency appointments because we understand that sometimes you need help right away. Whatever your ages, we have experience making patients of all ages comfortable. Call 713-587-9996 today to set up an appointment with one of our qualified dental specialists.