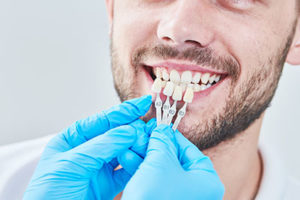 Our teeth go through a lot in our lifetime. Staining, chipping, cavities, and shifting happen to everyone in one form or another. This is why dental veneers have become so popular. As a semi-permanent procedure that can address any of these issues, dental veneers are worth checking out. Splendid Dental Woodlands provides cosmetic dentistry options for all of our patients in the Spring area.
The Benefits of Dental Veneers
The most significant benefit of veneers is how much they can improve the appearance of your teeth. Dental veneers treat cosmetic issues like broken or chipped teeth, discoloration or uneven coloring, gaps, and irregular sizing and positioning. Because they can last for a decade or longer, they make for an excellent way to enhance your smile in the following ways:
Reshaping teeth

Closing small gaps

Eliminating discoloration
Veneers don't change the positioning of your teeth. What they do is hide minor dental issues once the dentist places them in your mouth. If you have more serious orthodontic issues, your dentist may recommend you have alternative treatments instead of veneers. 
Our enamel can erode over the years because of wear or tear, acidic foods, or even excessive brushing. Since that enamel doesn't grow back, you might consider dealing with the issue by having a dentist apply veneers. 
What Are Veneers Made of?
Usually made of porcelain or some kind of resin composite, the veneers are thin and custom colored. This is done to match your surrounding natural teeth. It's important they not only fit correctly but look exactly like you want them to. If your teeth have become discolored, chipped, broken, or worn down teeth, then veneers can return your teeth to their natural color and shape. Further, these thin veneers can give your teeth uniformity. Thus, any irregularly shaped teeth or unsightly gaps are made uniform. Whatever your needs, veneers can enhance the appearance of your teeth. Rather than hide your smile or be excessively self-conscious about your teeth, veneers can boost your self-confidence.
How Dental Veneers Work
Your first appointment at your dentist's office will involve a standard oral exam. With your dentist, you'll discuss what kind of veneers you would like and the tooth or teeth you'd like treated. At this exam or another one, your dentist creates a mold of your teeth to build the veneer. Expect the construction of the veneer to take between one to two weeks. Once made, you arrive at the dental offices to have them placed on your natural teeth. Fit, proper shape, and the right color are all seen during the visit before they are attached. Your dentist wants to make sure you're getting what you want. After a dental cleaning to ensure there are no bacteria between your natural teeth and the veneer, it is attached with a kind of cement. Most offices now use ultraviolet light to bond the cement. It is painless and quick.
While your veneers can last up to fifteen years, taking some simple steps ensures their quality and avoids future hassle. These include:
Avoid chewing hard objects like ice or plastics

Don't use your teeth to open packaging

Get a retainer if you grind your teeth or clench your jaw

When playing sports, always use a mouthguard

You'll leave your dentist with a new, natural-looking smile
Learn More About Dental Veneers at Splendid Dental Woodlands
Dental veneer services can be found with us at Splendid Dental Woodlands. Our compassionate, experienced dentists, hygienists, and staff make it a point to bring you excellent service. Alongside our cosmetic dentistry services, we offer pediatric dentistry intended for children and adolescents as well as thorough general dentistry. Contact us today at 713-587-9996. Splendid Dental in Spring, TX, provides dental veneers to restore your smile!